Privacy News: September 23
Surveillance cameras in SF, post-Roe privacy, and more.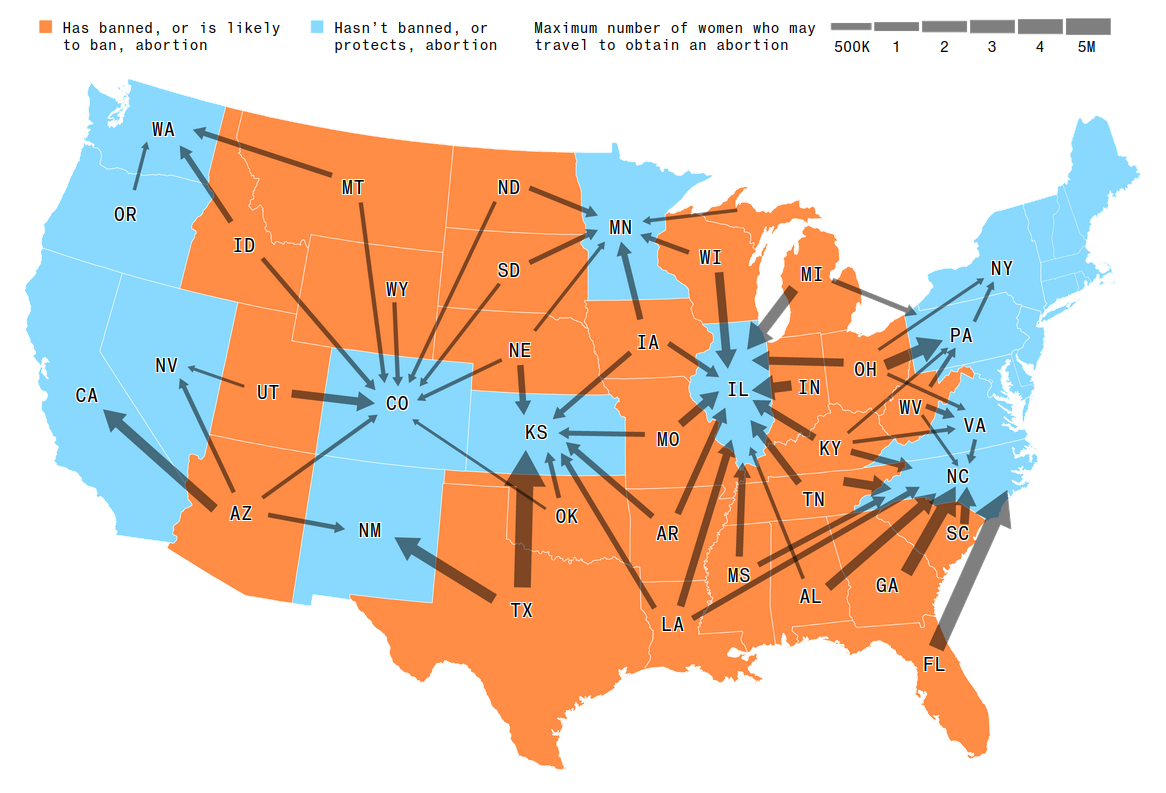 Every time I do one of these, I'm surprised by how many interesting privacy-related stories there are out there.  Admittedly, most of them are depressing, but still!
Janie Har, Associated Press and KQED Staff on KQED (kqed.org)
Ignoring the concerns of civil liberties groups, San Francisco's Board of Supervisors voted 7-4 to allow police to monitor in real time private surveillance cameras.  As EFF notes in  San Francisco's Board of Supervisors Grants Police More Surveillance Powers
This troubling ordinance also allows police to surveil "significant events," loosely defined as large or high-profile events, "for placement of police personnel." This essentially gives police a green light to monitor—in real-time—protests and other First Amendment-protected activities, so long as they require barricades or street closures associated with public gatherings. The SFPD has previously been caught using these very same cameras to surveil protests following George Floyd's murder, and the SF Pride Parade, facts that went unaddressed by the majority of Supervisors who authorized the ordinance.
Kudos to Supervisors Connie Chan, Dean Preston, Hillary Ronen, and Shamann Walton for voting no.
FIND OUT MORE:
Privacy After Roe
Edward Hasbrouck on Papers Please (papersplease.org)
A deep dive by a travel privacy expert on a fundamental right that's under threat in a world where abortion is criminalized in an increasing number of states.
In this context, the right to anonymous travel has acquired new importance and urgency. If you've wondered, "Why would anyone want to travel anonymously?" now you know one of the reasons.  But what's needed is "right to travel" legislation, not just "privacy" legislation. Current Federal "privacy" bills would do little to protect abortion travelers.
Hasbrouck looks at the different options for interstate travel - bus, trains, planes, and automobiles - as well as the limited surveillance self-defense options and the need for federal legislation.
Dominic-Madori Davis on TechCrunch (techcrunch.com)
Eight VCs discuss the toppling of Roe, its impact on the overall venture community, and what they think about activism via investing.  Hessie Jones of MATR Ventures makes an important point:
"Due diligence needs to expand past the point of founder 'intentions' and to look at the current customers using the technology."
Another VC has a different perspective.  Can you guess his gender?
"Our job is to make money for folks, and a lot of folks that we're making money for are the folks who don't care about these rights. That is the reality of the situation."
Rebecca Pifer on Healthcare Dive (healthcaredive.com)
The company, which has a dominant market share with 48 million monthly users and has faced regulatory scrutiny over privacy in the past, originally pledged to release the mode shortly after Roe v. Wade was overturned.
Miriam H. Wugmeister and Linnea Dale Pittman on Morrison Foerster (mofo.com)
San Francisco-based international law firm Morrison Foerster 's MoFo Privacy Tips for Protecting Reproductive Rights, offers guidance for individuals and reproductive healthcare providers, as well as recommendations for technology companies in a post-Dobbs world.
And ...
Tatum Hunter on The Washington Post (washingtonpost.com)
We examined the privacy practices of popular health apps including Drugs.com, WebMD, K Health, HealthTap and Period Calendar.
Paul Mozur, Adam Satariano, Aaron Krolik and Aliza AufrichtigSept. 22, 2022 on The New York Times (nytimes.com)
A cache of nearly 160,000 files from Russia's powerful internet regulator provides a rare glimpse inside Vladimir V. Putin's digital crackdown.
on NYTimes (nytimes.com)
Battling far-right extremism, Germany has gone further than any other Western democracy to prosecute individuals for what they say online, testing the limits of free speech on the internet.
Robert McMillan in San Francisco and Dustin Volz in Tallinn, Estonia on WSJ (wsj.com)
'We have never previously observed such a volume of cyberattacks, variety of threat actors, and coordination of effort,' report says; some U.S. institutions have been targeted.
on WAMU 88.5 - American University Radio (the1a.org)
Should we treat the collection of 'intimate data' as a civil rights issue?
Ashley Belanger on Ars Technica (arstechnica.com)
A former Google engineer reported the risk, but Meta found no privacy concern.
on Tor Project Forum (forum.torproject.net)
Currently we are receiving lots of requests for support from Iran. We are investigating the situation. We want to answer all requests, but we are overwhelmed. If you are having issues connecting to the Tor network from Iran, before contacting us on our support channels, please try these solutions:…
Johana Bhuiyan on The Guardian (theguardian.com)
Tech behemoth could do more to protect user data from landing in the hands of police and other authorities, some say
Joseph Cox on vice.com
The "Augury" platform includes highly sensitive network data that Team Cymru, a private company, is selling to the military. "It's everything. There's nothing else to capture except the smell of electricity," one cybersecurity expert said.
on Hindustan Times (hindustantimes.com)
The bill, if implemented in its current form, will have reaching ramification for the industry that is based on the premise of privacy and security of encrypted messages
on WIRED (wired.com)
When "if you see something, say something" becomes "we see everything," everyone loses.
Sierra Cistone on Montana Public Radio
Facial recognition technology has been put into at least one school district in Montana. The surveillance, characterized as a safety tool, is in use as policy makers in Montana debate how to regulate that kind of technology.
Taylor Hatmaker on TechCrunch (techcrunch.com)
In a new lawsuit, Facebook users accuse Meta of tracking them through an in-app browser in spite of Apple's iOS privacy changes.
Sasha Coutu on JD Supra (jdsupra.com)
On Thursday, September 22, 2022, the first set of requirements brought on by Bill 64, An Act to modernize legislative provisions as regards the protection of personal information, comes into force in Québec. The remaining requirements will come into force in increments, in September 2023 and in September 2024.
Lydia X. Z. Brown, Andrew Crawford, Ridhi Shetty on Center for Democracy and Technology (cdt.org)
On September 8th, 2022, three CDT team members gave statements on various privacy and data issues in as part of the public remarks section of the Federal Trade Commission's (FTC) Commercial Surveillance and Data Security Public Forum. The Public Forum was organized in tandem with the FTC's Advanced…
Nick Reisman City of Albany on Spectrum News 1 Central NY (ny1.com)
Victims can apply for address confidentiality program.
Dave Maass on Electronic Frontier Foundation (eff.org)
In yet another failure to follow the rules, the San Francisco Police Department is collaborating with the regional fusion center with nothing in writing—no agreements, no contracts, nothing— governing the relationship, according to new records released to EFF in its ongoing complaint against the...
Luca Bertuzzi on EURACTIV (euractiv.com)
A new partial compromise on the AI Act, seen by EURACTIV on Friday (16 September) further elaborates on the concept of the 'extra layer' that would qualify an AI as high-risk only if it has a major impact on decision-making.
Navneet Alang on Stanford Social Innovation Review Logo (ssir.org)
The Fight for Privacy investigates how governments and businesses violate and profit from our personal lives online.