Privacy News: October 21, Global Encryption Day
Encryption, student privacy, algorithmic justice, and more!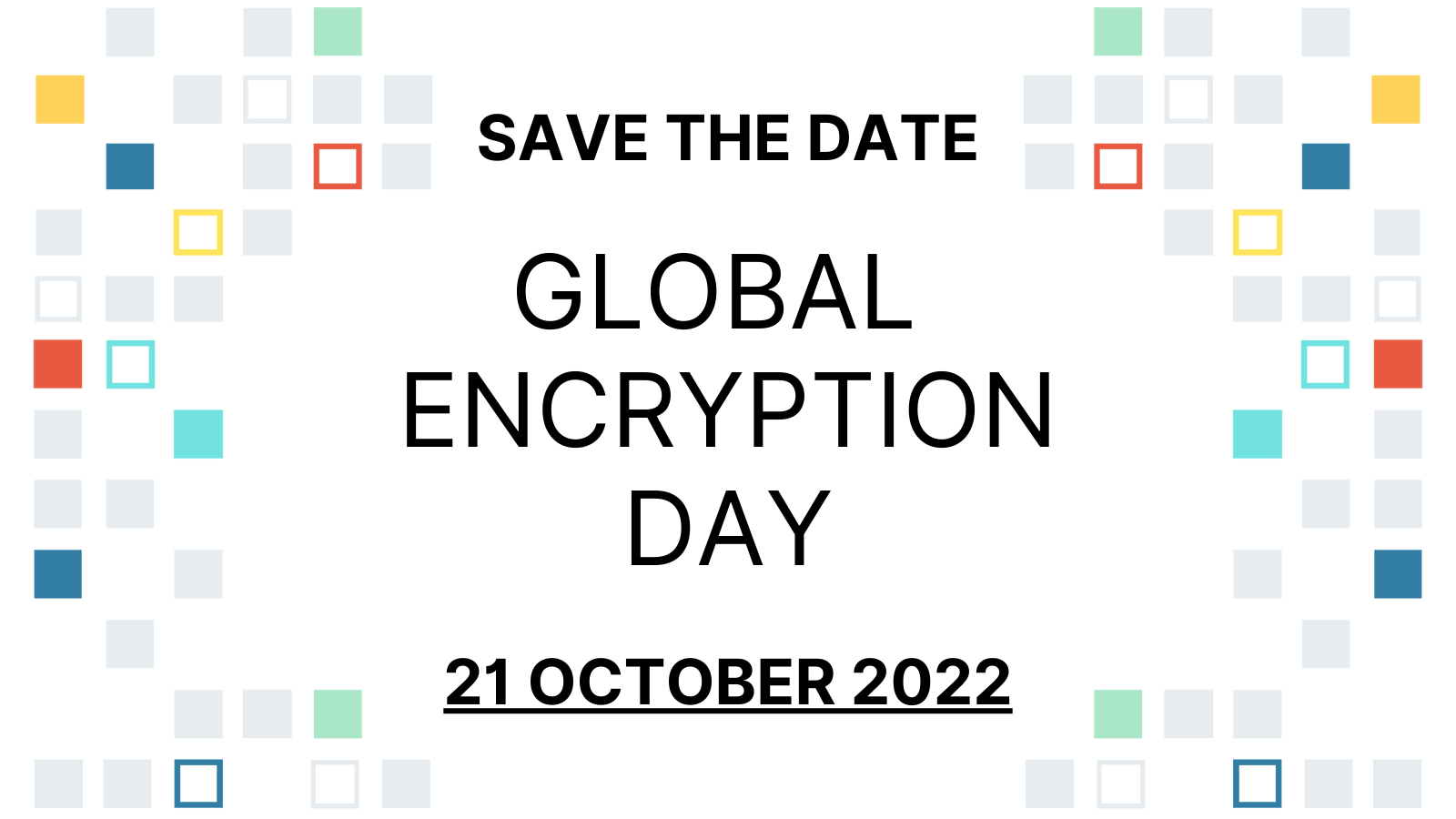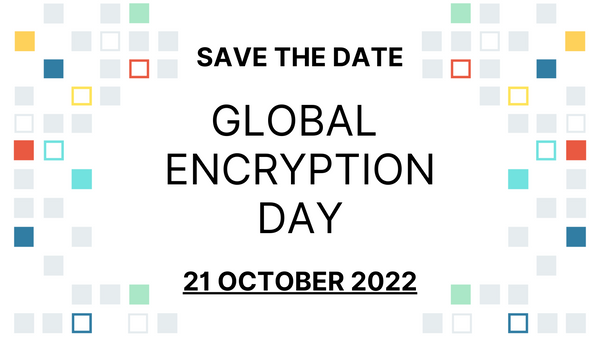 Today is Global Encryption Day, sponsored by the Global Encryption Coalition. As the signatories write in their statement:
Strong encryption is a critical technology that helps keep people, their information, and communications private and secure. It underpins online trust, protects members of vulnerable communities, and safeguards the data of governments, businesses, and citizens from criminals and other malicious actors....

On Global Encryption Day, we call on governments and the private sector to reject efforts to undermine encryption and instead pursue policies that enhance, strengthen, and promote use of strong encryption to protect people everywhere. We also support and encourage the efforts of companies to protect their customers by deploying strong encryption on their services and on their platforms.
TAKE ACTION: Make DMs Safe!  
Sign on to the open letter to tell Facebook, Twitter, Google, Apple to protect our private messages and implement default end-to-end encryption immediately.
Aaron Gordon on vice.com
Yikes!  Uber is rolling out a targeted ad system that will let companies serve ads to people in the Uber app based on the specific places they have been, according to a report by the Wall Street Journal ... like for example doctors offices, abortion clinics, religious or cultural centers, and a host of other potentially sensitive places.  What could possibly go wrong?
"Uber never misses an opportunity to push the boundaries on how extractive and exploitative a company is allowed to be," Chris Gilliard, Just Tech Fellow at the Social Science Research Council, told Motherboard. "Using the granular details gleaned from people's travels as fodder for advertising poses a threat to anyone who doesn't want the intimate details of where they worship, who they date or what medical conditions they have being sold to the highest bidder. This news reaffirms that Uber is a surveillance company masquerading as a transportation company."
Student Privacy
on Teen Vogue (teenvogue.com)
"We should be focused on education, not surveillance."
Algorithmic Justice
Abeba Birhane on Nature (nature.com)
The Gender Shades audit of commercial facial-analysis tools found that dark-skinned faces are misclassified at a much higher rate than are faces from any other group. Four years on, the study is shaping research, regulation and commercial practices.
Melissa Heikkilä on MIT Technology Review (technologyreview.com)
The hope is it will boost a blossoming sector that works to hold artificial-intelligence systems accountable.
Natasha Lomas on TechCrunch (techcrunch.com)
Clearview AI, the controversial facial recognition firm, has been hit with another fine in Europe after ghosting France's privacy regulator.
And ...
Justine McDaniel on The Washington Post (washingtonpost.com)
After seeing a neighbor on their doorbell camera, a Florida father and son ran outside, looking for an intruder. They shot at a woman sitting in her car, authorities said.
Kashmir Hill and David McCabe on NYTimes (nytimes.com)
Ken Paxton, the state attorney general, said products like Google Photos and the Nest camera had violated Texans' privacy rights.
Bill Toulas on BleepingComputer (bleepingcomputer.com)
Advocate Aurora Health (AAH), a 26-hospital healthcare system in the states of Wisconsin and Illinois, is notifying its patients of an unintentional data breach that impacts 3,000,000 individuals.
ALSO: Advocate Aurora Health in potential 3 million patient leak, Brandon Vigliarolo on The Register (theregister.com)
Katie Deighton on The Wall Street Journal (wsj.com)
Consumers have been slow to sign up, as the rewards for allowing tracking remain small.
Edward Ongweso Jr on vice.com
A Data & Society report interviewed doorbell camera users and delivery drivers to understand how surveillance is affecting both, for the worse.
Read More on Future of Privacy Forum (fpf.org)
On September 20, 2022, Indonesia's House of Representatives passed the Personal Data Protection Bill (PDP Bill) (note: linked Bill is in Indonesian). This is the first step towards enactment of the PDP Bill as law. The second step was Presidential assent, which happened on October 17, 2022, and sign…
Arvind Narayanan on AI Snake Oil (aisnakeoil.substack.com)
Teachers adapted to the calculator. They can certainly adapt to language models.
Catherine Stupp on The Wall Street Journal (wsj.com)
A new agreement is expected to be in place in early 2023, making it easier to move data about EU citizens to the U.S., though many worry the deal could be short-lived.
Tammy Xu on MIT Technology Review (technologyreview.com)
When quantum computers become powerful enough, they could theoretically crack the encryption algorithms that keep us safe. The race is on to find new ones.
TSBy Teresa ScassaContributorFri., Oct. 7, 2022timer3 min. read on Toronto Star (thestar.com)
When it comes to privacy, the government has clearly listened more to the concerns of industry; human rights take a back seat to commercial interests.
The A.V. Club on Gizmodo (gizmodo.com)
The private search company is bringing its data protection to your Mac.
Ashleigh Hollowell on VentureBeat (venturebeat.com)
While a burgeoning divide shows it is more difficult for the everyday person to take advantage of their data privacy, companies are also struggling with how to approach it as regulations change. Some companies like Apple are using privacy as a marketing point.
Jane Andrew on The Conversation (theconversation.com)
Optus made a public announcement about its breach but was not legally required to do so. This needs to change.
Omer Tene on JD Supra (jdsupra.com)
The metaverse will bring many benefits, but it is also likely to multiply and compound privacy issues, particularly given its global nature. ...
Tarique Mustafa on TechRepublic (techrepublic.com)
Consumer data compliance and privacy are growing in importance. Learn how to automate compliance efforts here.
Thomas Harper on JD Supra (jdsupra.com)
The Advocate General of the Court of Justice of the EU has issued an Opinion stating that mere "upset" is not sufficient to give rise to a claim for...
Tyler Bridegan on JD Supra (jdsupra.com)
In August, the FTC launched a groundbreaking privacy and security rulemaking under the FTC Act with an extensive Advanced Notice of Proposed Rulemaking (ANPR) that asks a wide range of questions. Last week, the International Association of Privacy Professionals (IAPP) conference in Austin, Texas featured a discussion with FTC Commissioner Rebecca Slaughter regarding this broad new rulemaking. Shortly after Commissioner Slaughter's discussion, the FTC granted an extension of the deadline for comments in response to the ANPR.
RNZ News on RNZ (rnz.co.nz)
Officials are refusing to say why they did not consult the Privacy Commissioner over their use of a private overseas spy company.
Jake Peterson on Lifehacker (lifehacker.com)
DuckDuckGo's new web browser brings some killer privacy features to the Mac.
The Daily Star on Asia News Network (asianews.network)
The study also showed that people are optimistic about the potential of mobile technology to help them lead a more sustainable life.
Halefom H. Abraha on papers.ssrn.com
The distinct challenges of data processing at work have led to long-standing calls for sector-specific regulation. This leaves the European legislature with a d
Dave Johnson on Insider (businessinsider.com)
iCloud Private Relay can help protect your privacy by hiding your identity and location when browsing on Safari.
Natalie Cramp on Maddyness (maddyness.com)
As the remote working shift sees a pivot to surveillance, what does it mean for privacy, and do companies run the risk of taking it too far?
Connor O'Leary Herreras on The Michigan Daily (michigandaily.com)
I'm wary of corporations preying on my data but aware that using the internet requires individual action on my part to protect that data.
Angela Brandt on Pomerado News (sandiegouniontribune.com)
Four of the five candidates for Poway mayor tackled topics from development to small businesses at an Oct. 11 forum.
Geoffrey A. Fowler on Stars and Stripes (stripes.com)
A frightening number of kids' apps are spying on them. Now parents can get some help to stop it.
Sam Robbins on thediplomat.com
Taiwan's government has immense amounts of health data on its population. What it can do with that data is the subject of a decade-long lawsuit.
on Spiceworks (spiceworks.com)
Cybersecurity professional Bruce Schneier: "Everyone visiting Qatar for the World Cup needs to install spyware on their phone."